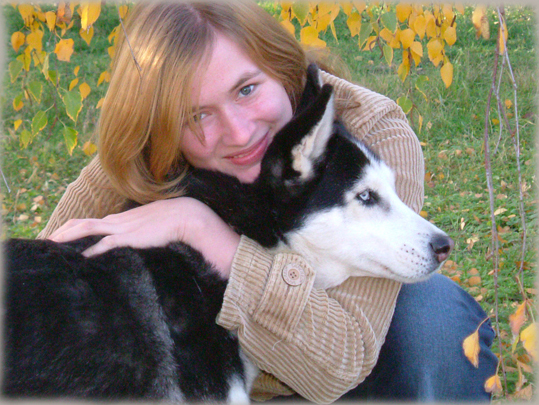 lived: 01.12.1996.- 23.12.2008.
My first siberian husky. I was 13 when I got her. And from the first moment I saw her, I knew my life has changed. She was a little black fur-ball, with a quite strong character. She always knew what she wants, and for a child it was hard to keep her away from trouble. She could escape from our yard, she killed 9 cats of our neigbour she could howl all night, and she never felt any shame, but she made my life whole.
We learnt together each other's language, and I really believed in that she will stay with me forever... hm, now I believe we will meet again once, as she is waiting for me somewhere, she has to, as she is was my best friend, she was my heart... and I was her life, her leader. It must be like that...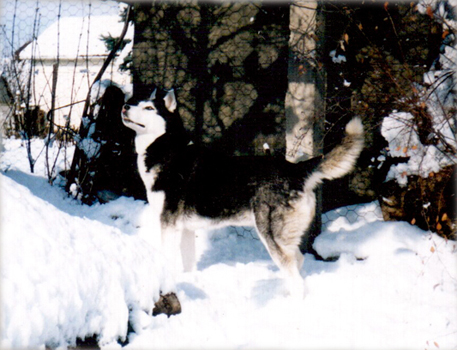 Lady's pedigree:
Rex

Ginna Bily Soutok CS

CH Aykon Polarnova

Smiling Lady Chinook

CH Grizzly Nigaluk's

CH Crow ze Smecky


Csing-King Maugli

CH Adria Astig

Sziberiai Husky Chrehy-Boy

Yukonvolgyi Cindy

CH Nicky Tedo Los Ventisquerce

CH A-Star Joy
Offspring: never had, she was spayed in 2002
Do not stand at my grave and weep;
I am not there.
I do not sleep.
I am a thousand winds that blow.
I am the diamond glints on snow.
I am the sunlight on ripened grain.
I am the gentle autumn's rain.
When you awaken in the morning's hush,
I am the swift uplifting rush
Of quiet birds in circled flight.
I am the soft stars that shine at night.
Do not stand at my grave and cry;
I am not there.
I did not die.