dob: 03.03.2012. Breeder: Siberian Lady Kennel , 4 years old on the photo
I remember when I saw Sookie's mom for the first time. She was a real teenager with long legs and very childish temperament. Had the elegance as all Siberian Lady girls but there was something what caught my heart... the way she looked at Mirjana... you could see in her that Mirjana means the world for her. I never could forget that devotion, so I always played with the thought to have her daughter once, and Mirjana promised me "if she has a daughter with very similar appearance and character I can have her", and Sookie was born.
She was born for us, she was born to come to us and now I have the feeling that we were born to love her.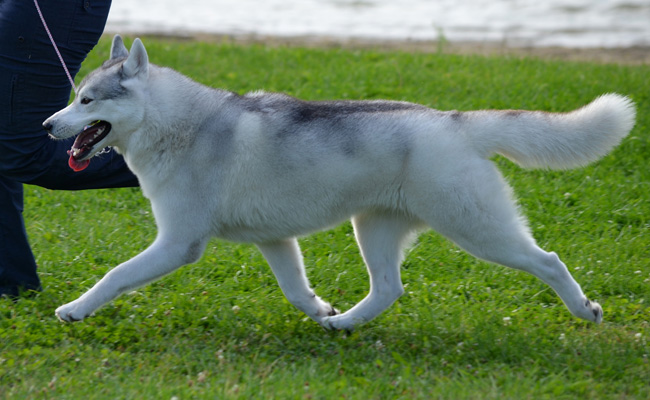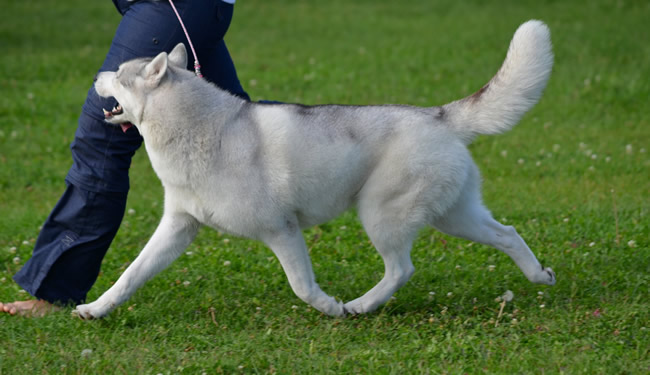 3,5 years old on the photos
Sookie's pedigree:
CH Kaila's Diamond Dust

CH Cool Stars Kilala Silver Baby

CH Kaila's Burberry

CH Kaila's Priceless Pearl

CH Cool Star's Achilles

CH Kilala Silver Clock


CH Pack Creek Bear Hydrargium

CH Tokima's Northwest Passage

CH Karnovanda's The Ice Princess

CH Kailas Silver Bear of Zausel

CH Tricky Nicky of Siberian Lady
Eyes: clear (pre-tests done on 30.10.2012., next tests done on 07.05.2014.)

Show results:
Show -

Owner handled

Class

Judge

Result

03.06.2012. CACIB Subotica (Srb)

Baby

Mr. Sinisa Sancanin (Srb)

VP1, BOB Baby

09.06.2012. CAC Mol (Srb)

Baby

Mrs. Biljana Dzigurski
Ms. Evica Misic
Mr. Zarko Mikalacki
VP1, BOB Baby, Baby Best in Show

15.07.2012. CAC Irig (Srb)

Baby

Mrs.Natasa Davidovic

(Srb)

VP1, BOS Baby

08.09.2012. CACIB Szekesfehervar (Hu)

Puppy

Mr. Laszlo Erdos (Hu)

VP1, BOB Puppy, Shortlisted in BIS

15.09.2012. CACIB Osijek (Cro)

Puppy

Mr. Levente Miklos (Hu)
VP1, BOB Puppy, Puppy BIS 2nd place

16.09.2012. CACIB Osijek (Cro)

Puppy

Mr. Keith Lovell (Aus)
VP1, BOB Puppy, Puppy BIS 3rd place

07.10.2012. "Vatai Z. Memorial Dog Show " CAC Senta (Srb)

Puppy

Mr. Pal Paroci, Evica Misic (Srb)
VP1, BOB Puppy, Puppy BIS

20.10.2012. CACIB Komarom (Hu)

Puppy

Dr. Tamas Jakkel (Hu)
Mr.Daniele Poltri (I)
VP1, BOB Puppy, Puppy BIS

21.10.2012. CACIB Komarom (Hu)

Puppy

Dr. Gyorgy Tesics (Hu)

VP2

Top Siberian Husky Female Baby&Puppy 2012 and Top Siberian Husky Baby&Puppy 2012 in the Cynological Club for Sleddog Breeds Humgary

05.02.2013. FEHOVA CACIB Budapest (Hu)

Junior

Mr. Manuel Loureiro Borges (P)

Exc1, Hungaria Prima Junior

06.04.2013. CAC Kikinda (Srb)

Junior

Mr. Tibor Bosnjak (Srb)

Exc1, PRM, BOS

21.04.2013. CAC Backo Petrovo Selo

Junior

Mr. Slavoljub Andric (Srb)
Exc1, PRM, JBOB, BOB, BOG 3rd place

04.05.2013. CACIB Subotica (Srb)

Junior

Mr. Vasko Mudresa (Mne)
Mrs. Ligita Zake (Lv)
Exc1, PRM, JBOB, BOB, JBOG - New Serbian Junior Champion

05.05.2013. CAC Apatin (Srb)

Junior

Mrs. Ligita Zake (Lv)

Exc1, PRM, JBOB

05.05.2013. II Specialty Show for V FCI group "Panonija Apatin" (Srb)

Junior

Mr. Boris Spoljaric (Cro)
Exc1, PRM, Junior Club Winner, JBOB,

16-17.05.2013. WDS and World Club Show Budapest (Hu)

Junior

Mr. Blaz Kavcic (Si)
Dr. Jose Luis Payro Duenas (Mex)

Excellent both days

22.06.2013. CAC Mol (Srb)

Junior

Mr. Carlo Bala (Hu)


Exc1, PRM, JBOB, BOS

23.06.2013. CACIB Ada (Srb)

Interm.

Mr. Panče Damevski (Mk)


Exc1, CAC, CACIB, BOS

29.06.2013. CAC Szentes (Hu)

Junior

Mr. Laszlo Erdos (Hu)


Exc1, Hungaria Prima Junior, BOS

27.07.2013. CACIB Debrecen (Hu)

Interm.

Mr. Zsolt Lokodi (Ro)


Exc1, CAC

28.07.2013. CACIB Debrecen (Hu)

Interm.

Mrs. Ruth Wagner (Lu)


Exc1, CAC, R.CACIB

07.09.2013. Specialty Show EDF Backa Palanka (Srb)

Open

Mr. Dragan Dolovac (Srb)


Exc1, CAC, R.Best Female

08.09.2013. EDF CAC Show Backa Palanka (Srb)

Interm.

Mr. Dusan Paunovic (Srb)

Exc1, CAC, BOB, BOG

12.04.2014. CAC Show Kikinda (Srb)

Open

Mrs. Stefica Lazic (Srb)

Exc1, CAC, BOB, BOG and BEST IN SHOW!!! New Serbian Champion

04.05.2014. Panonija Show Apatin (Srb)

Champ.

Mr. Ratibor Cekic (Srb)


Exc1, CAC

12.04.2014. III Specialty Show for V FCI group "Panonija Apatin" (Srb)

Open

Mr. Gyorgy Tesics (Hu)

Exc1, CAC, Club Winner, BOB and BEST IN SPECIALTY SHOW!!!

13.02.2015. FEHOVA CACIB Winter Dog Show Budapest (HU)

Open

Mr. Attila Czegledi (Ro)

Exc1, CAC, CACIB, BOB and R.BOG

15.02.2015. FEHOVA CACIB Winter Dog Show Budapest (HU)

Open

Mr. Blaz Kavcic (Si)

Exc1, CAC, CACIB, New Hungarian Champion

01.03.2015.CACIB Belgrade (Srb)

Champ.

Mr. Gerard Jipping (NL)


Exc1, CAC, CACIB

04.04.2015. Kikinda CAC (Srb)

Champ.

Mr. Mirsad Sabanovic (Bih)

Exc1, CAC, BOB and R.BOG

18.09.2015. Specialty CAC Show Dunaharaszti

Champ.

Mr. Tesics György


Exc2. R.CAC

13.10.2015. Transilvanian Winner CACIB Arad (Ro)

Champ.

Mr. Zsolt Molnar

Exc1. CAC, CACIB, BOB, BOG, New Romanian Champion, New International Champion
New International Champion!!!

01.04.2017. CAC Kikinda (Srb)

Champ.

Gujaničić Dejan (Srb)


Exc1, CAC, BOB, BOG

10.09.2017. Specialty for the V FCI Group Kac (Srb)

Champ.

Dusan Paunovic (Srb)


Exc1, CAC

22.09.2017. Clubshow for the V FCI Dunaaraszti (Hu)

Work.

Franco Mannato (Fr)

Exc1, CAC, R.BISS working dog

16.06.2018. CAC Mol (Srb)

Champ.

Slobodan Milosevski (Mk)

Exc1, CAC, BOB, BOG, R.BIS
Working carrier - as a lead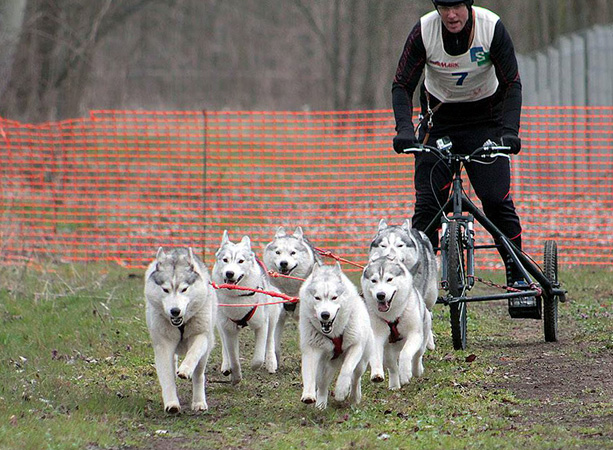 Race

Result

13-14.04.2013. Int. Dryland Race Veresegyhaza, Bear Cup (Hu)

B1

2nd place (Laci with Ed, Quinny, Sookie, Zsezse, Pasek and Slava)

20-22.09.2013. XVIII Int. Sleddog Meeting, Dunaharaszti (Hu)

C1

2nd place (Laci with Ed, Sookie, Quinny and Slava)

06.10.2013. Int. Dryland Race Kanjiza (Srb)

C1

1st place (Laci with Ed, Sookie, Quinny and Slava)

12-13.10.2013. Int. Dryland Cup Vének (Hu)

C1

2nd place (Laci with Ed, Sookie, Quinny and Slava)

26-27.10.2013. 7. Internationales Schlittenhunde-Wagenrennen, Reingers (Aut)

C1

2nd place (Laci with Ed, Sookie, Quinny and Slava) 8
Sookie passed her working exam

03.11.2013. MCSE Vadaszmagazin Cup Babatpuszta (Hu)

BJ2 (Open)

2nd place (Laci with Ed & Sookie)

29-30.03.2012. V.Int. Sleddog Race Bear Cup, Veresegyhaza (HU)

B1

4th place (Laci with Ed, Sookie, Quinny, Zsezse, Pasek and Slava) 1

06.04.2014. Int. Dryland Race Kanjiza (Srb)

B1

1st place (Laci with Ed, Sookie, Quinny, Zsezse, Pasek and Slava) 1

20-22.09.2014. Int. Sleddog Meeting Dunaharaszti (HU)

C1

2nd place (Laci with Ed, Sookie, Zsezse and Slava)

05.10.2014. Int. Dryland Sleddog Race Apatin (Srb)

C1

1st place (Laci with Ed, Sookie, Quinny and Slava)

25-26.10.2014. 8. Internationales Schlittenhunde-Wagenrennen, Reingers (Aut)

C1

1st place (Laci with Ed, Sookie, Quinny and Slava) 9

01-02.11.2014. Halloween Cup and Nat.Championship Gyomro (Hu)

C1

2nd place (Laci with Ed, Sookie, Quinny and Slava)

20-24.11.2014. FISTC CART EUROPEAN CHAMPIONSHIP (Hu)

C1

9th place (Laci with Ed, Sookie, Quinny and Slava)

28-29.03.2015. VIII.Int. Sleddog Race Bear Cup, Veresegyhaza (HU)

B

1st place (Laci with Ed, Sookie, Quinny, Zsezse, Tanja and Slava)

09.04.2015. Int. Dryland Sleddog Race Kanjiza (Srb)

B1

1st place (Laci with Ed, Sookie, Quinny, Tanja, Slava and Zsezse)

19.20.09.2015. XX Int. Dryland Sleddog Race Dunaharaszti (Hu)

C1

5th place (Laci with Ed, Sookie, Quinny and Slava)

05-06.03.2016. Int. Dryland Sleddog Race Tanyakerülő (Hu)

B

3rd place (Laci with Sookie, Zoya, Quinny, Zsezse, Slava and Tanja)

02-03.04.2016. Int. Dryland Sleddog Race Bear Cup Veresegyház(Hu)

B

2nd place (Laci with Sookie, Zoya, Quinny, Zsezse, Slava and Ed)

24-25.09.2016. XXI. Int. Dryland Sleddog Race Dunaharaszti (Hu)

B1

1st place (Laci with Ed, Zoya, Sookie, Quinny, Zsezse, and Slava)

15-16.10.2016. Int. Dryland Sleddog Race Vének (Hu)

B1

1st place (Laci with Ed, Zoya, Sookie, Quinny, Zsezse, and Slava)

28-30.10.2016. X. Int. Dryland Sleddog Race Reingers (At)

Scooter 2dogs

4th place (Laci with Quinny and Sookie)

03.2017. II. Int. Dryland Sleddog Race Sofia (Bg)

C1

2nd place (Laci with Zoya, Iva, Sookie and Ed)

03.2017. VII. Int. Dryland Sleddog Race "Bear Cup" Veresegyhaza (Hu)

B1

2nd place (Laci with Zoya, Iva, Sookie, Ed, Slava and Momo)

23-24.09.2017. XII. Int. Dryland Sleddog Race Dunaharaszti (Hu)

B1

2nd place (Laci with Zoya, Iva, Sookie, Ed, Slava and Momo)

28-29.10.2017. X. Int. Dryland Sleddog Race Reingers (At)

BJ 1 FCI

3rd place with Agnes

09-10.12.2017. Int. Dryland Sleddog Race Babatpuszta (Hu)

BJ 1 FCI

1st place with Agnes

10-11.03.2018. Int. Dryland Sleddog Race Sofia (Bg)

BJ 1 FCI

2nd place with Agnes

24-25.03.2018. Int. Dryland Sleddog Race "Bear Cup"Veresegyhaza (Hu)

BJ 2 FCI

2nd place Agnes with Sookie and Ed

22-23.09.2018. Int. Dryland Sleddog Race Szantodpuszta (Hu)

BJ 1 FCI

8th place with Agnes

13-14.10.2018. Int. Dryland Sleddog Race Venek (Hu)

BJ 1 FCI

5th place with Agnes

24-26.10.2018. Int. Dryland Sleddog Race Reingers (At)

BJ 1 FCI

3rd place with Agnes

08-09.12.2018. Int. Dryland Sleddog Race "Santa Cup" Babatpuszta (Hu)

BJ 2 FCI

1st place Agnes with Ed and Sookie
Sookie's offspring:
The Born litter : CH Chatty Eyes Calm Spring x CH Creek Spring of Siberian Lady
Northspring's Born to Shine
Northspring's Born to Be Good
Northspring's Born in Storm
Northspring's Born to Flame
The Green litter : CH Indian Legend of SIberian Lady x CH Creek Spring of Siberian Lady
Northspring's Green Valley
Northspring's Green Mountain
Northspring's Green Lake
Northspring's Green Field
Northspring's Green Forest
Northspring's Green River
4 years old: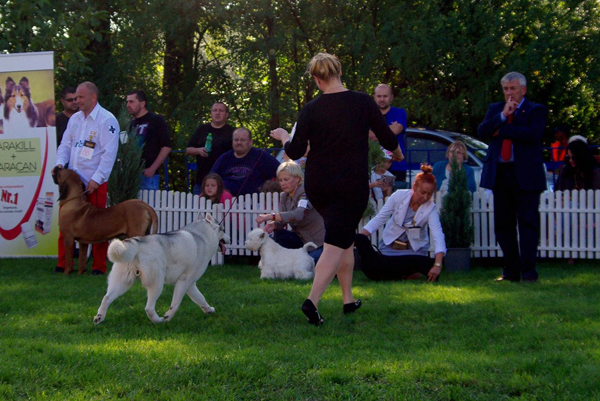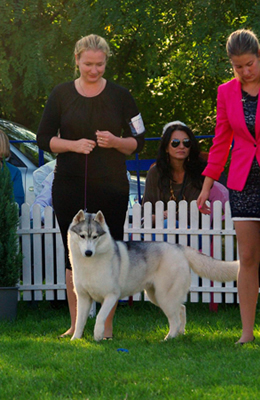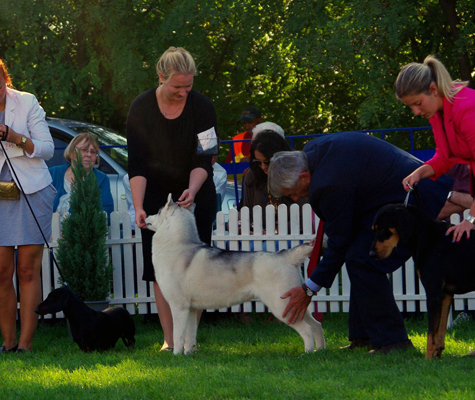 3,5 years old on the photo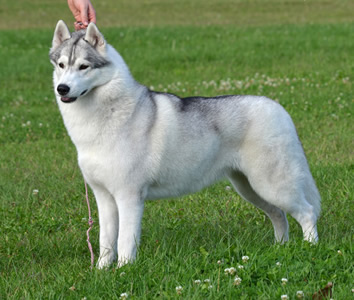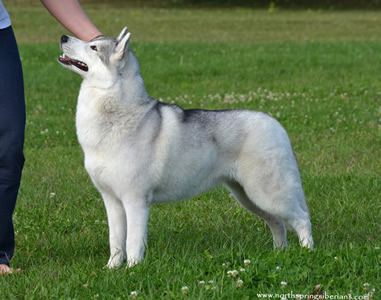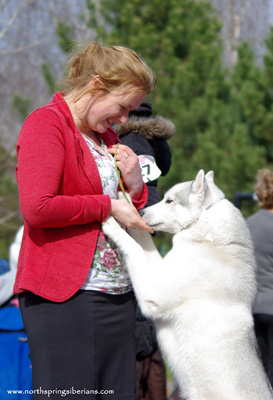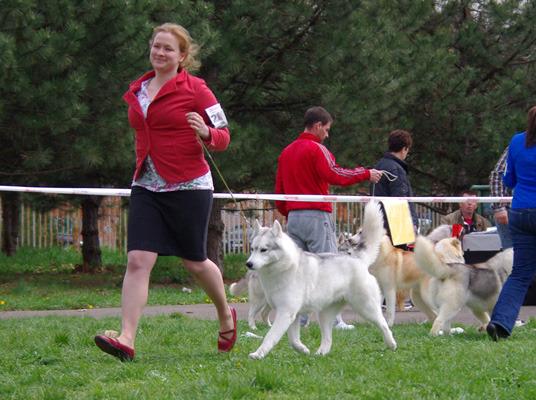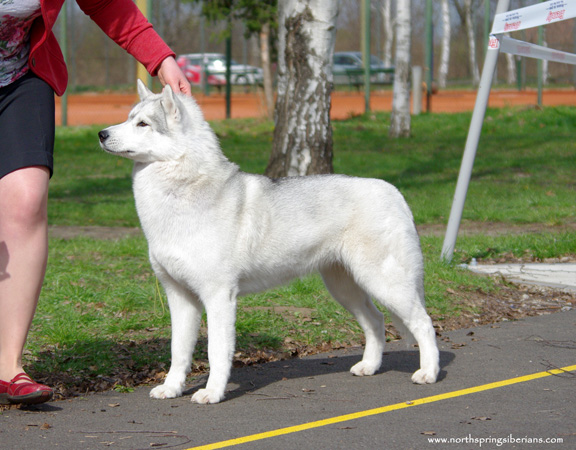 3 years old on the photos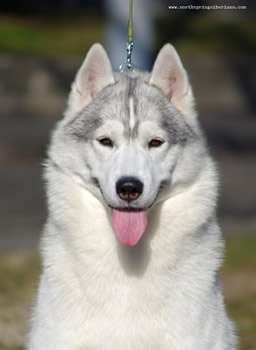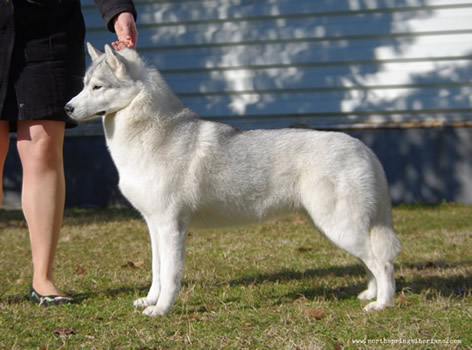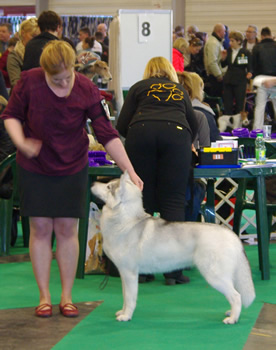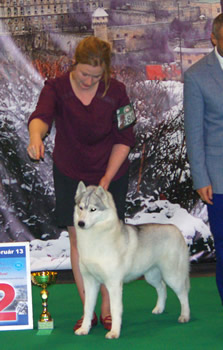 2,5 years old: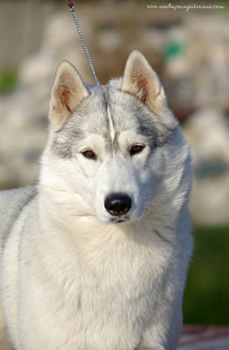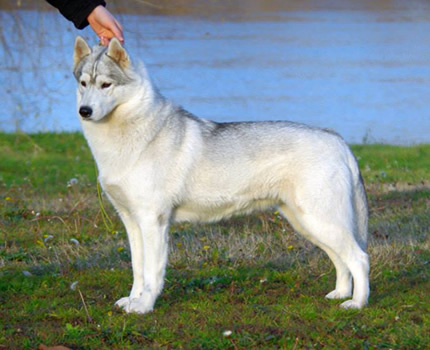 2 years old: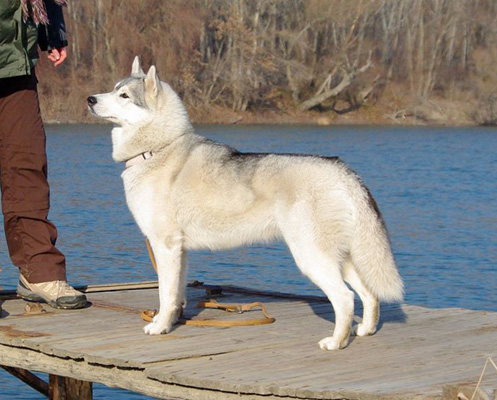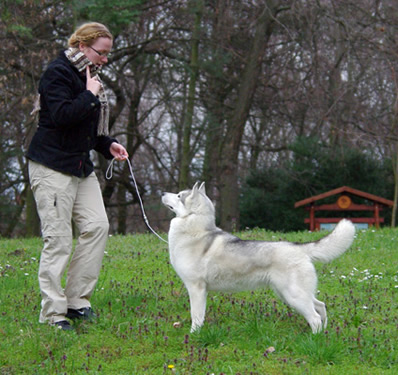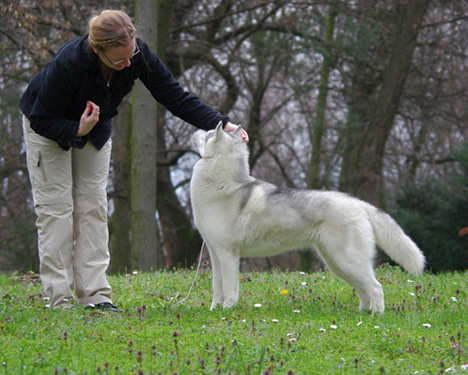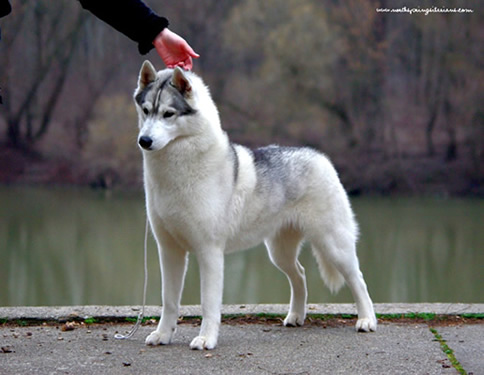 She was 18 month old on the video (not groomed)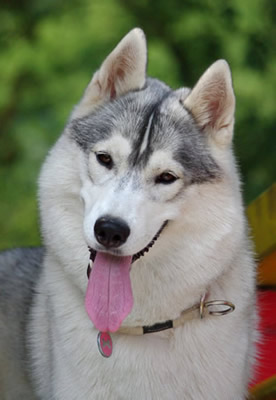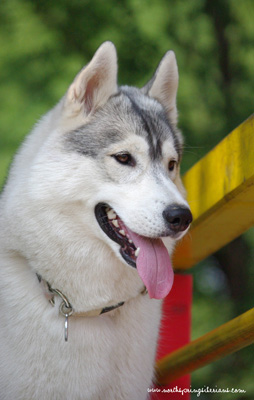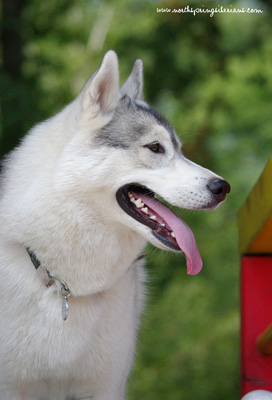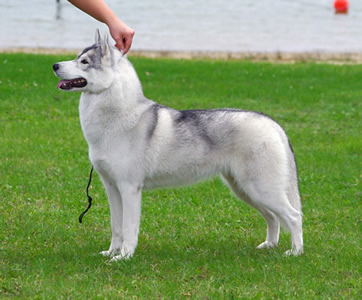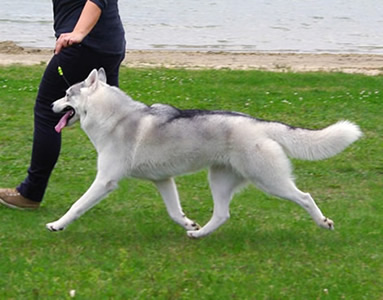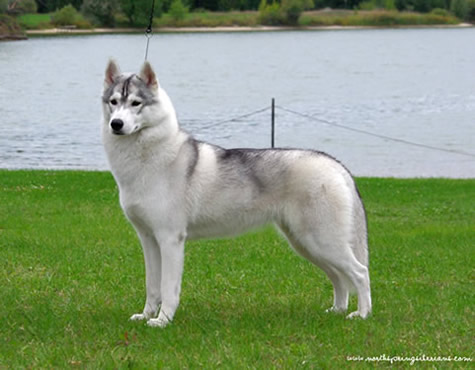 Sookie 15 months old: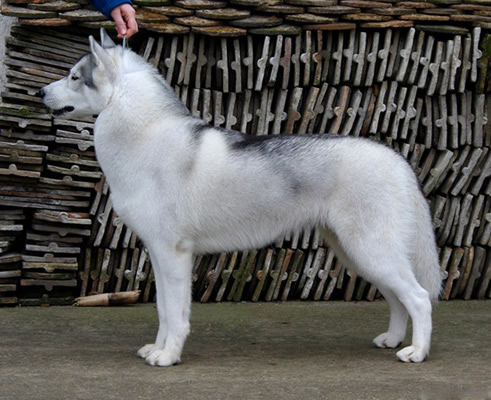 Sookie 1 year old: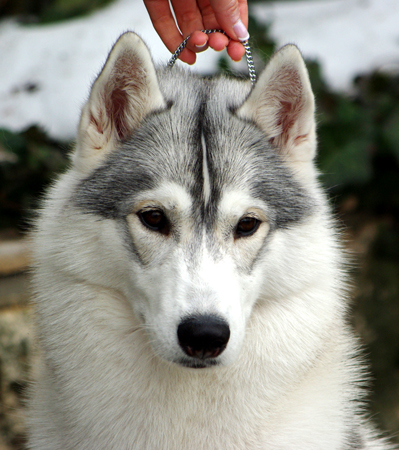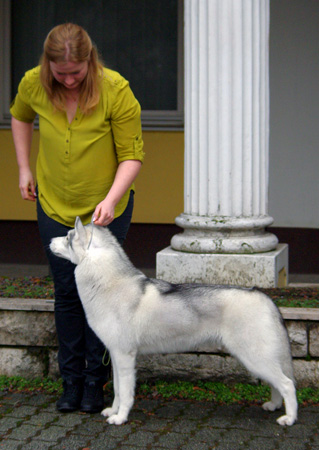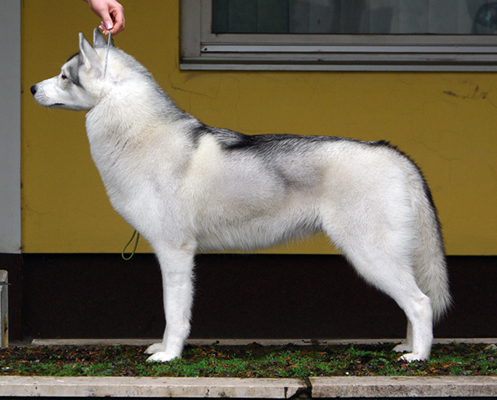 Sookie 10 months old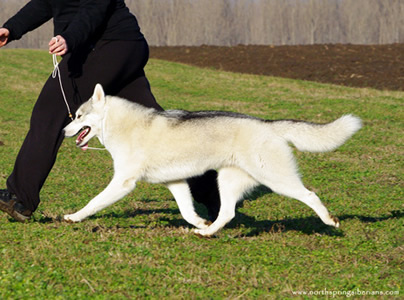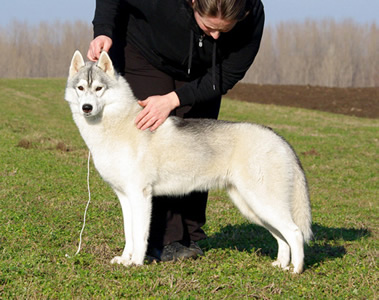 7,5 months winning puppy BIS on the one of the biggest shows in Hungary, Komarom CACIB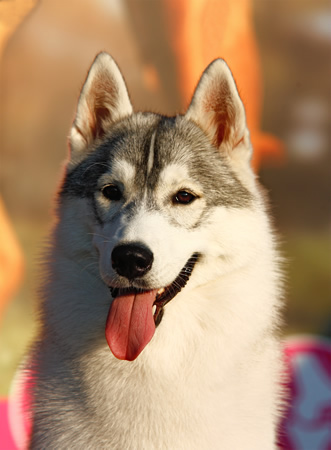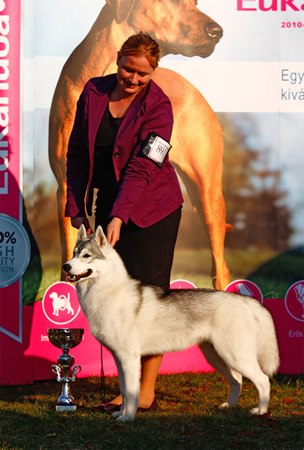 7 months old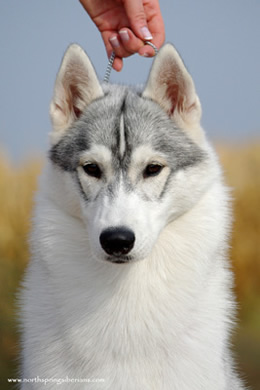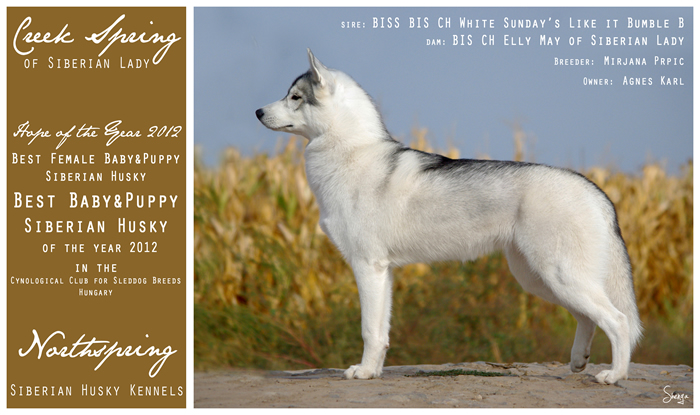 Sookie 6 months old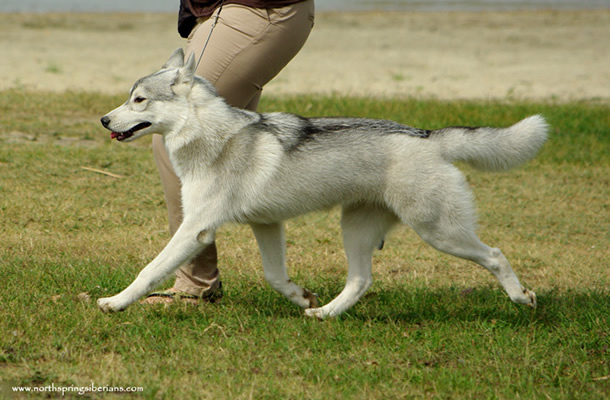 4,5 months old - a real mover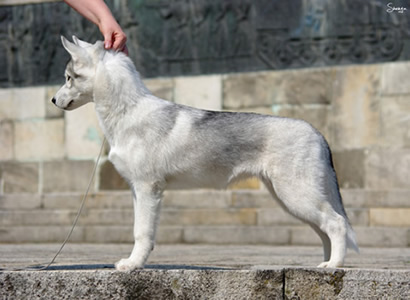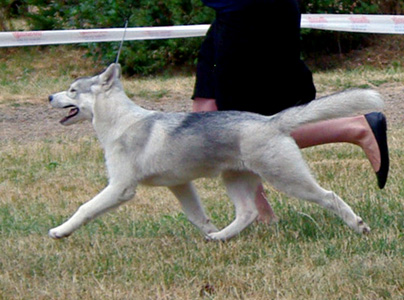 3 months old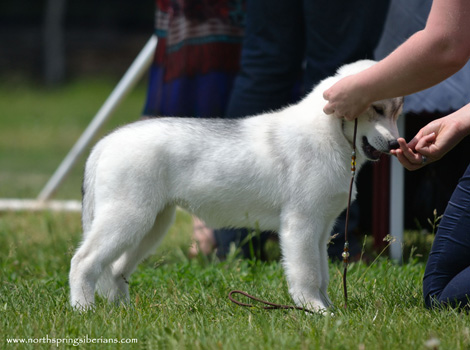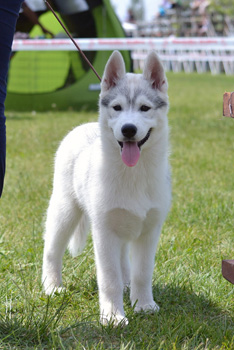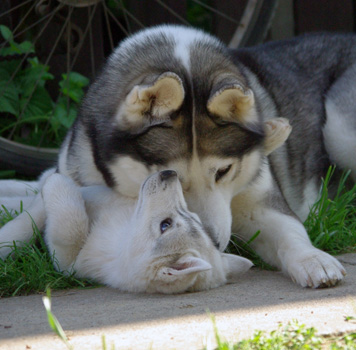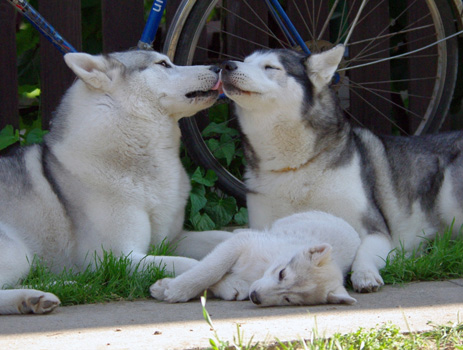 With her Mom and family: